Permanent Magnetic Drum Separators And Drum Machines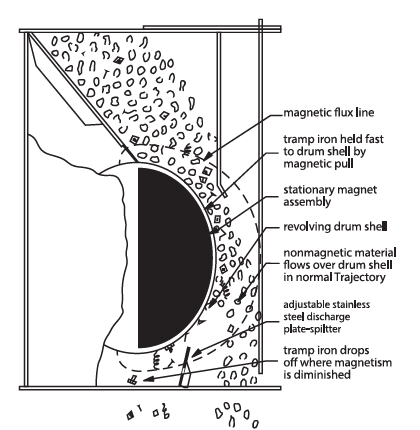 SIZE RANGE
Permanent Drum Separators
are available in standard drum diameters of 300, 400, 500, 650, 800, 1000.
• 300 to 400 mm diameter for small particle sizes low tonnage or volume capacity
• 500 to 900 mm diameter for mid-sized particles, medium tonnage or volumetric capacity, typically used in the Sponge Iron Industry
• 1000 to 1500 mm diameter for large particle size, high tonnage, typically used in the Slag Recycling Industry
Drum widths range from 300 mm to 2000 mm. Custom size of Drums can be made considering the requirement. The larger the diameter and width the greater is the volume of material which can be handled.
INTRODUCTION
MITOOL Permanent Magnetic Drum Separators are crucial in every processing industry therefore, they are widely in used for the separation of iron contamination from minerals, chemicals, food, flour, sugar, grains, plastics, sand, cement, fertilizers, rock, borings and many other gravity or conveyor transported products.
MAGNETIC MATERIALS
FERRITE CERAMIC MAGNETS:
This LOW INTENSITY DRUM uses ceramic magnets. This is useful for most of the applications where either iron is in free form, or where the iron particles are large. The average magnetic field strength on the magnetic drum surface would be in the region of 1500-2500 Gauss depending on the drum size.
RARE EARTH MAGNETS: This MEDIUM INTENSITY DRUM uses a special grade of Neodymium — Iron- Boron (Rare Earth) Magnets. This is useful for removing weak magnetic contamination as well as fine iron particles. The average field strength on the drum surface would be in the region of 4000-5000 Gauss. The Rare Earth Magnetic Drum is obviously far more expensive than the Ceramic Magnetic Drum, but, it offers unmatched performance in certain difficult applications.
WORKING PRINCIPLE
MITOOL Permanent Magnetic Drum
consists of a stationary Permanent Magnetic assembly around which the drum shell revolves. Permanent Magnet assembly has an uniform and long lasting magnetic field across the entire width. The magnetic field is effective over approximately half the drum circumference. It is necessary to bring it into position before starting. As material fed evenly reaches the drum, the powerful permanent non-electric magnetic field attracts and holds ferrous particles to the revolving shell. As the revolving shell carries the material through the stationary magnetic field, the non-magnetic material falls freely from the shell while ferrous particles are firmly held until carried beyond a divider and out of the magnetic field. The Permanent Magnet used is an everlasting magnet whose strength does not diminish with time during normal use and can be used through out the life of installation.
PERMANENT MAGNETIC DRUM SEPARATORS
MITOOL Offers Permanent Magnetic Drum Machines
in various styles to suit customers convenience:
DRUM
This drum is supplied mounted on pedestals and a V-groove pulley is furnished for driving the drum shell by link-belt or V-belt. However, it is without the housing, drive or any other accessories. The drum is suitable for installation at the discharge end of chutes, spouts, screw conveyors, elevators and other form of carrying medium.

SINGLE DRUM MACHINE
The Drum Machine is self-contained and consists of a feed hopper with adjustable feed gate, jig shaker feed tray the drum itself, motorized drive for the drum and discharge chutes for magnetic and non-magnetic material. All components are mounted on a sturdy, suitably designed framework of heavy section angle iron.

DOUBLE DRUM MACHINE
The Double Drum Machine is used for handling large capacities or difficult materials requiring more than one magnetic treatment. There is also Double Drum Machines with individual jig shaker tray. Triple Drum Machines can also be supplied as per the requirement.

TOTALLY ENCLOSED DUST TIGHT DRUM MACHINE
The equipment comes complete with a chute type feed hopper, adjustable feed regulation gate, magnetic drum and geared motor drive in a ready for use condition. Inlet and outlet openings are flanged for ease of connection to customers duct work. Double or Triple Totally Enclosed Machines can also be supplied if required by clients.

ADVANTAGES
• No transformer rectifier required
• No coils to burn-out
• No electric wiring required for drum
• No power consumption
• No operating cost
• No maintenance
• No failure- hence no downtime
• Uniformly powerful
• Everlasting magnetic power guaranteed

The following points are of special importance. Type of Material:
• Whether wet, dry or hot
• Whether free flowing
• Dusty or cohesive
• Density of material (t/m3)
• Neutral or chemically reactive
• Average and maximum lump size of material
Application for all our Product is Same : Steel Plant , Cement Plants, Power Plants, Infra Structure, Pharamceutical, Chemical, Fertilizer, Cosmetic, Food, Packaging , Mines, Minerals, Waste management, Water Treatment Plant Recycling,