Spring Operated Hose Reeling Drum
We are leading Spring Operated Hose Reeling Drum, manufacturers, suppliers and exporters located in Ambarnath MIDC Dist Thane, Maharshtra India.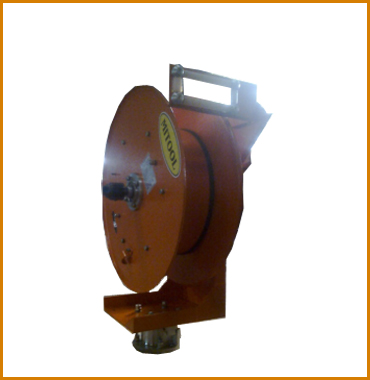 Mitool Make Hose Reeling Drums are generally used in Maintenance Shops, Garages, Works Shops and Industrial Application.

Hose Reels are available in Spring Operated & Motorised Drives. ( In Motorised Drive HRD can be driven by Standard Squirrel Cage Induction Motor or thru Stall Torque Motor. )

In Spring Operated HRD's can also be supplied with Roller guide, Stopcatch to relieve tension, Swivel Base & L type Bracket as optional.

Roller Guide :- Is provided to receive cable in drum in uniform way. ( Laying of cable will not be layering mechanism pattern but closer to it. )

Stopcatch :- A Spring Loaded Stopcatch which will work in any position allow cable or hose to be pulled from reel and then locks the reel with the required payed out length. When the hose is to be recovered back on the reel, a small pull is all that is required to release the catch. Stop catches are used on hand pull off dispensing or pendent reels and are generally fitted in conjunction with a roller guide.

Swivel Base:- Swivel Based is recommended when HRD need rotate is 360 degree during operation

L type Bracket:- The Bracket accepts the mounting flange and allow the reel to be mounted to a horizontal surface such as floor or wall mounting. A number of accessories may be attached to mounting bracket and if stopcatch roller guide, swivel base or limit switch is required then a bracket must be fitted.