Sprocket / Gear Driven Cable Reeling Drum
We are leading Sprocket / Gear Driven Cable Reeling Drum manufacturers, suppliers and exporters located in Ambarnath MIDC Dist Thane, Maharshtra India.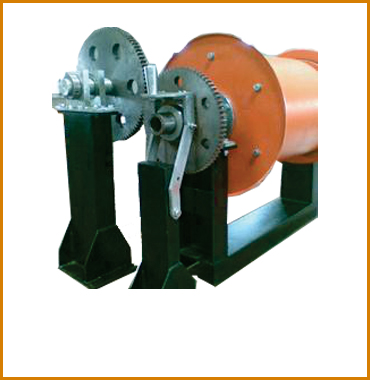 SPROCKET / GEAR DRIVEN CABLE REELING DRUM
Sprocket driven or gear driven cable reeling drums are generally used in magnet cranes where long travel & vertical operation (lifting magnets) is required. Sprocket/gear driven CRD's are generally recommended to avoid tension on cable & to have a better life of the drum. It is Similar to the spring operated type CRD's. Only the difference is driving member is required to drive the sprocket/gear driven cable reeling drum. Spring has limitations over the design & its winding life.

Construction : It consists of driving sprocket/gear ,driven sprocket/gear, Slip ring assembly & drum for winding & unwinding the cable.

Working Principle : CRD is wounded or unwounded by respecting driving mechanism of client's drum. It is synchronized with rope drum.

Benefits of Sprocket driven CRD :
• Smooth Operation
• Efficient for long travel
• Longer Life.

Questionnaire :
| Sr no | Description | Parameter |
| --- | --- | --- |
| 1. | Application | |
| 2. | Rope drum pitch dia | ....mm |
| 3. | Hoisting speed | ...m/min |
| 4. | No of falls | |
| 5. | Cable Size | ... C x ....sq mm |
| 6. | Cable OD | ...mm |
| 7. | Height of lift | ...mtrs |