Stall Torque Motor Operated Cable Reeling Drum
We are leading Stall Torque Motor Operated Cable Reeling Drum , manufacturers, suppliers and exporters located in Ambarnath MIDC Dist Thane, Maharshtra India.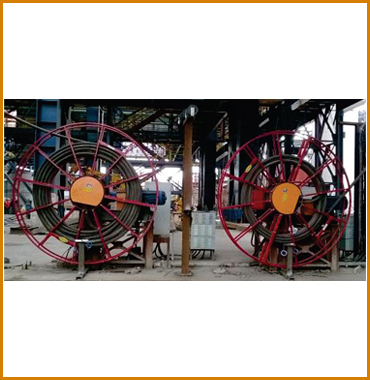 Stall Torque Motor Operated Cable Reeling Drum

"MITOOL" Makes stall torque motor operated automatic motorzed cable reeling drums suitable for handling length of cables in excess of those which cannot be handled by a conventional spring operated types. The special purpose torque motors are capable of being rotated against normal phase rotation. The units are totally enclosed and weatherproof In other word acting like a spring of infinite length. The drive to the reel is by means of chains & sprockets according to requirements. These units are specially supplying power to traveling cranes.

Working Principles of Torque Controlled Motorised Cable Reeling Drum.
`Mitool' Make torque controller type reels may be driven by any substantially constant speed motive power unit. In their standard form, the units are designed to accept L90, L100, L112, L132, standard flange mounted AC motors with selection depending upon application requirements such as speed & energy requirements etc.The most popular choice is for motor working from a 3 ph. supply.
The power unit drives the reel through an irreversible worm and wheel transmission which is totally enclosed and lubricated for life. The reduction ratio of the gearbox is fixed and rotational speed of the output spindle is selected by fitting a motor of appropriate speed. Since the motor mounts are designed to accept universally available stock motors, variation in reeling speed are easily obtained. In all cases, rotational speed of output spindle is arranged to be in excess of that required for cable reeling which ensures correct cable retrieval under all operating conditions. The energy dissipating capability of the torque controller unit, is greater than the energy permissible through the gearbox thus ensuring adequate safety margins are supplied to torque controller unit.
The torque controller employs an advanced design of friction principles and the unit incorporates a unique arrangement to give stable performance during all operating conditions. A very large area of friction lining in relation to the energy dissipated ensures an extremely long period between lining replacements. Special consideration has been given to lining renewal, if due to a particularly high duty cycle, this ultimately becomes necessary and the complete replacement of the lining can be accomplished by an unskilled person in less than 30 minutes.
The irreversibility of the worm and wheel transmission and the stable torque characteristics of the torque controller permits successful cable reeling on the basis of energizing the motor for recovery only and wiring diagrams are offered for this conception. The benefits of energizing the reel motor for cable recovery solely are not only increased life of friction lining and greatly extended intervals between torque corrections but, also a substantial saving in energy consumption.
Benefits & Advantages of Torque controller operated Motorised Cable & Hose Reeling Drum
• Available in compact Size
• Low Cost compare to Stall Torque Motor Operated Cable Reeling Drum
• Short Delivery period
• For Low Torque No. Chain Drive system required due, to which low maintenance.
• Can be use in hazardous area.
• Travel limit switch can fitted as an optional to prevent machine over travel.
• Indirect drive reels are driven with chain drive transmission and are considered for application where the Length & weight of Cable is in excess of the capacity of the direct drive units.